UB-Flow : The high resolution profiler for open channels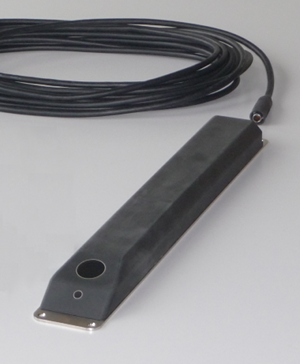 The UB-Flow F156 profiler will give you precise velocity measurements in industrial or natural flows.
The UB-Flow F156 is the only profiler designed to give field measurements down to 2.5mm spatial resolution, and will enable you to precisely observe the velocity field within a few meters. Equipped with two wideband transducers centered on 1.5 and 6 MHz, the UB-Flow F156 is adaptable to numerous kinds of flow. It has an excellent sensitivity (down to -107dBm) that allows measurements in any conditions, even in low scattering liquids. A compact submersible enclosure integrates the hardware, a web interface and a logger, making the device easy to install.
Furthermore, it breaks new ground by giving access to acoustic turbidity through ultrasonic energy backscattered by the suspended particles.
Useful outdoors as well as in laboratories, this profiler will benefit research groups, design offices and metrology departments involved in hydrodynamic process studies, sewer system diagnostics or flow measurements. It will provide new opportunities of achieving excellence in this field.
Further details : technical datasheet
A new device is in developpment for sediment monitoring. ... read more