06/06/2017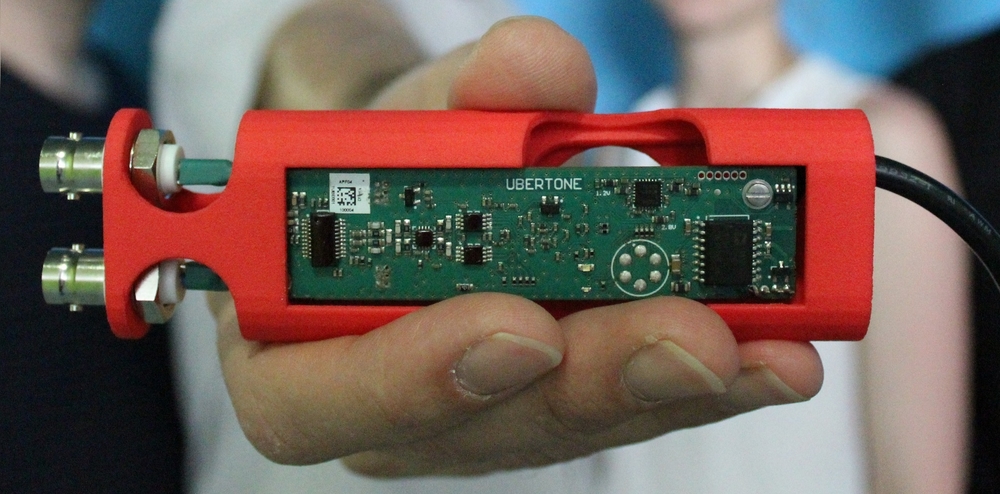 We are proud to announce you that our multi-purpose module for velocity and echo profiling, the Peacock UVP, is now available. This Ultrasonic Velocity Profiler is optimized to be highly reliable, very small (half a credit card) ... read more
31/05/2017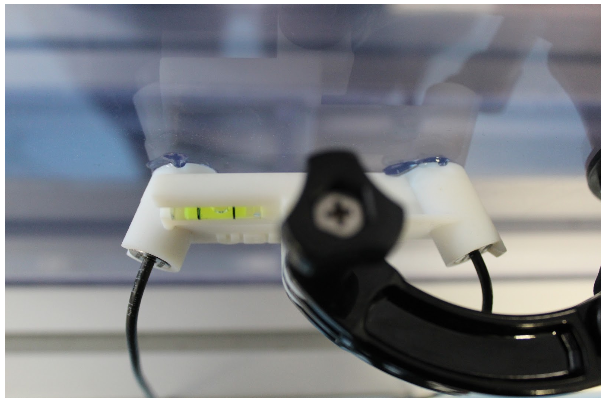 The integration of the transducers into a given setup is sometimes an issue. In order to help UVP users, Ubertone has developed a large experience in the design of transducer holders. ... read more
12/05/2017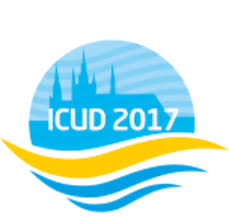 Ubertone takes part in ICUD 2017 - the International Conference on Urban Drainage - We contribute to 4 papers that will be presented. We will also be pleased to welcome you at our stand during the whole conference. ... read more
24/04/2017
Oostende, Belgium - Meet us at the W.A.T.E.R 2017, October 2nd to 6th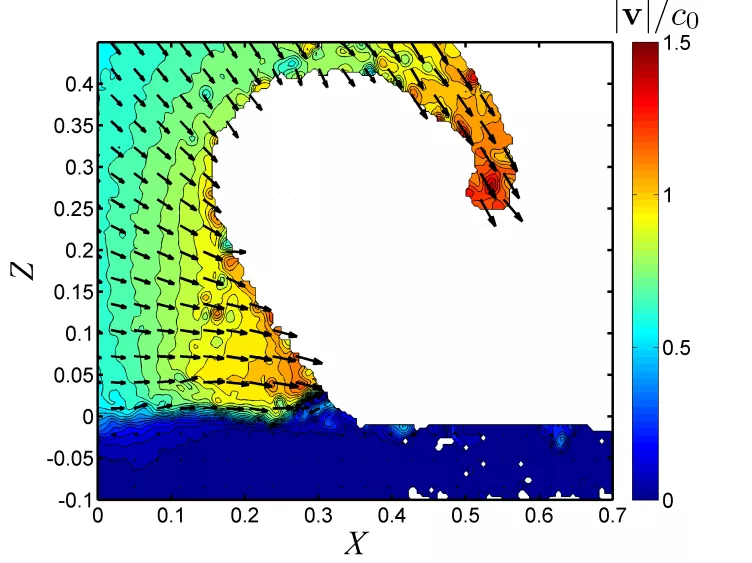 We are very pleased to announce, that we will participate to this second W.A.T.E.R Summer School - the Workshop Advanced measurement Techniques and Experimental Research - organised by the EMI Committee of the IAHR and by the Vrije Universiteit Brussel. We will make a demonstration of our technology during one of the laboratory sessions. For more information, you can have a look on the flyer here.
24/04/2017
Eindhoven, Netherland - Meet us at ISSF 2017, June 26th to 28th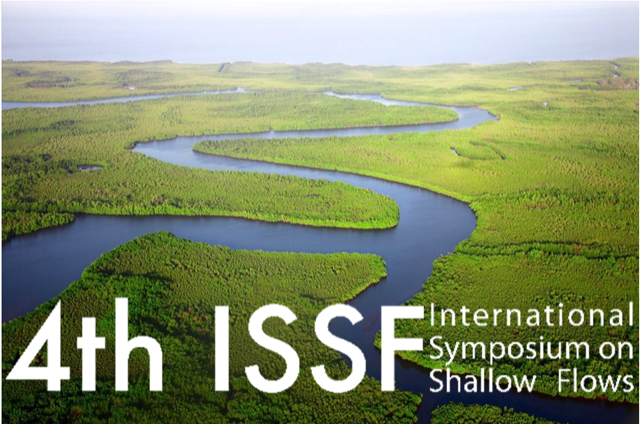 Ubertone takes part in ISSF 2017, the International Symposium on Shallow Flows, from June 26th to 28th 2017. We will present a paper about our new Hardware: "A Miniature High Resolution Velocity Profiler Applied To Shallow Flow Mapping". All details available on ISSF 2017 website.
20/04/2017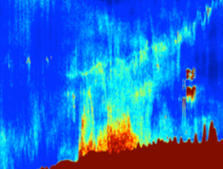 Among the great challenges of operational flow monitoring, Suspended Particle Matter (SPM) measurements are of primary importance nowadays. This 3-years project, funded by the ANR, just started. It has the objective to overcome the technological rupture existing in this domain between the academic and industrial sectors. ... read more
16/03/2017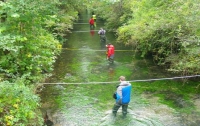 During this third edition of conference about hydrometrics, Stéphane Fischer presented a poster about Ubertone's new UVP Hardware. ... read more
04/03/2017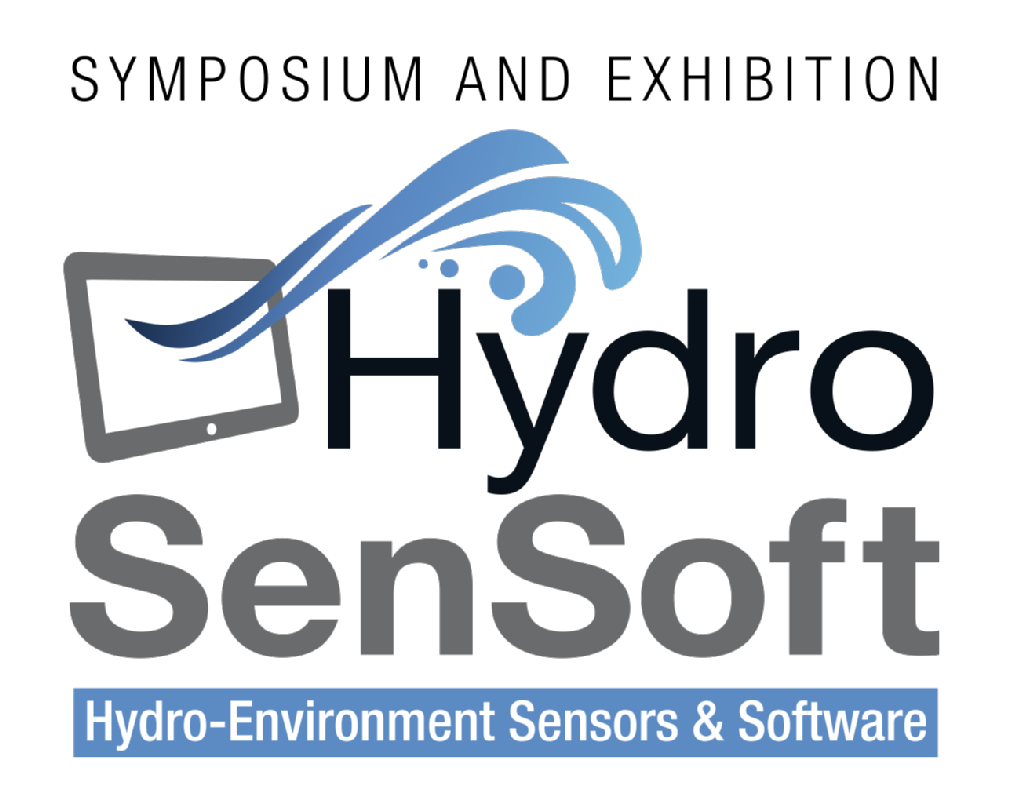 HydroSenSoft 2017 was the first edition of the International Symposium and Exhibition on Hydro-Environment Sensors and Software. We presented Ubertone's new hardware and the first results of this new profiling system. ... read more
29/01/2017
To measure velocity in clear liquid or to study acoustic turbidity, it is sometimes necessary to use tracers or known particles. Ubertone has selected and characterised the following particles, which fit perfectly to our devices and transducers. ... read more
30/09/2016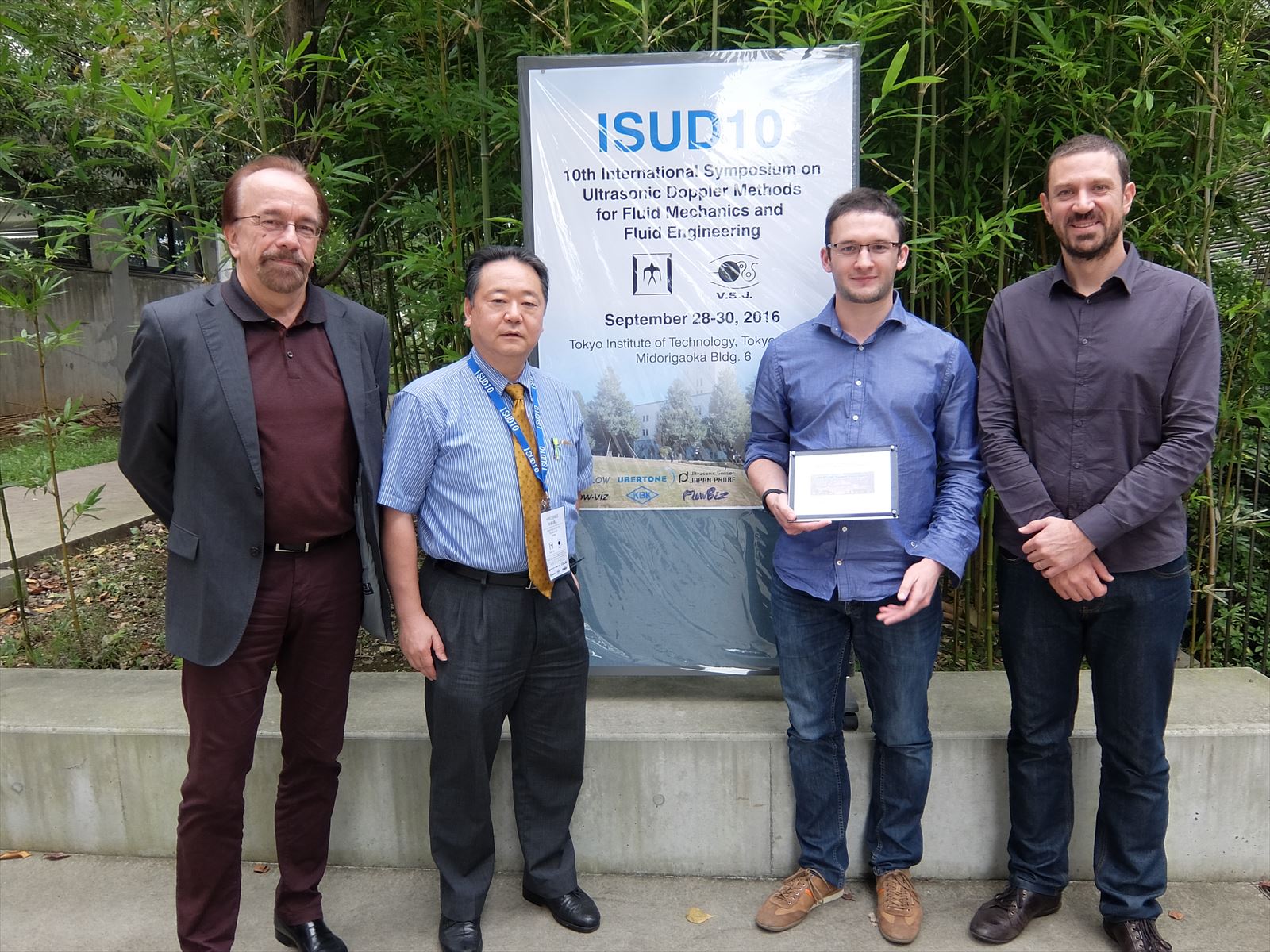 To promote innovative researches from students, Ubertone organizes the Ubertone Student Awards. Since 2012 and at each edition of the ISUD symposium, papers and presentations of the students were graded by each member of the scientific committee. During the last symposium taking place at Tokyo ... read more
29/09/2016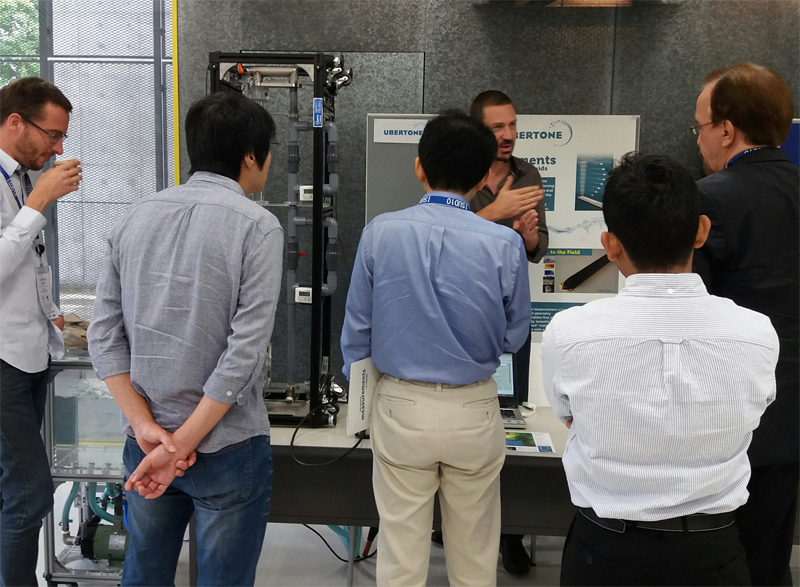 The ISUD - International Symposium on Ultrasonic Doppler Method for Fluid Mechanics and Fluid Engineering - is the biennial event bringing together users and experts in the field of high resolution velocity profile measurement by use of ultrasound. At Ubertone's desk, we demonstrated our UB-Lab velocity profiler measuring in clear water with a transducer clamped ... read more
28/09/2016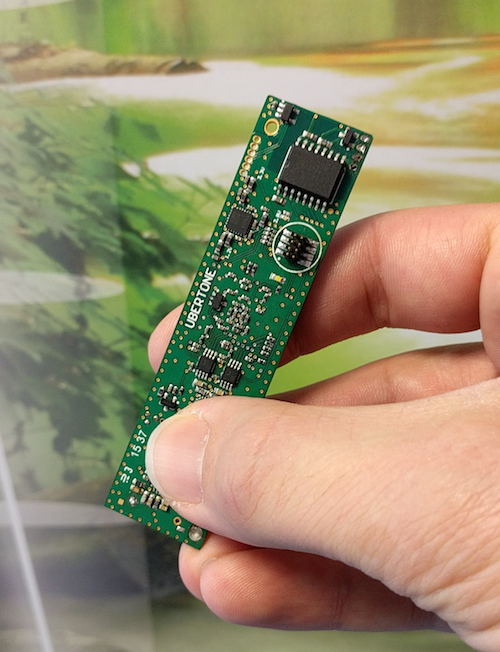 During the 10th ISUD we unveiled our new miniature hardware. With this new development, we push further the technological limits of UVP (Ultrasonic Velocity Profiler) to reach a lighter and smaller board.
Huge efforts have been made to concentrate all our technology in a 14 grams electronic board that consumes less than 1W and powers up in half a second. It is equipped with two transmit/receive channels allowing to measure up to ... read more
10/08/2016
Ubertone took part in Kyoto JSMF symposium, August 2016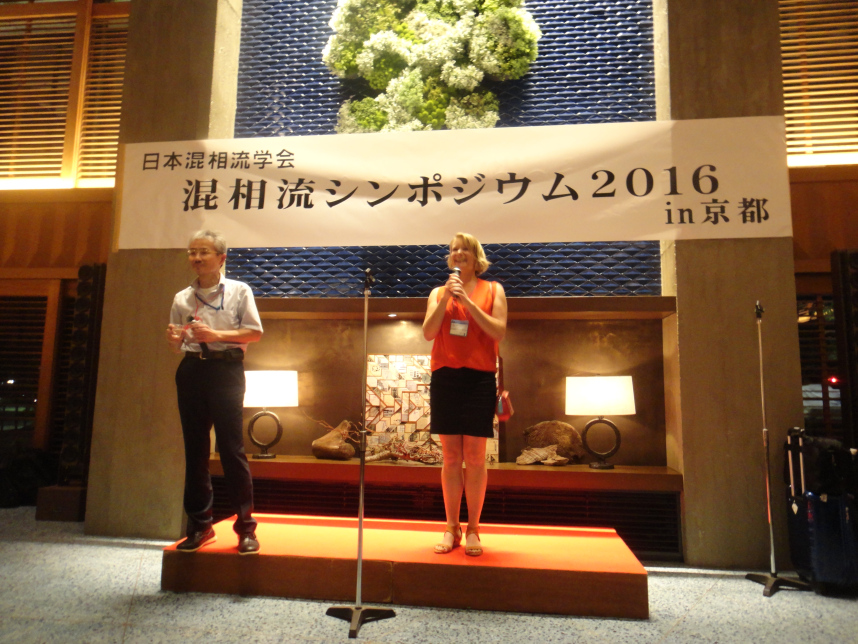 日本 ユーバートーンは下記の学会に出展いたします 8月8日~10日, 混相流シンポジウム2016 (日本混相流学会), 京都。会場で皆様のお越しをお待ちしています。
Ubertone took part in the annual symposium of the JSMF (the Japanese Society for Multiphase Flow) – Kyoto, from August 8th to 10th 2016. It was holden at "Ryoshin-Kan" in Imadegawa Campus of Doshisha University, where Ubertone's UB-Lab has been exhibited.
10/05/2016
Meet Ubertone at two main events in Japan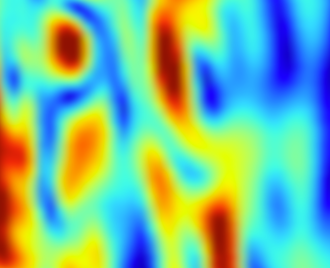 日本 ユーバートーンは下記の学会に出展いたします :
8月8日~10日, 混相流シンポジウム2016 (日本混相流学会), 京都。
9月28日~30日, 10th ISUD(International Symposium on Ultrasonic Doppler Methods for Fluid Mechanics and Fluid Engineering), 東京。
会場で皆様のお越しをお待ちしています。
28/03/2016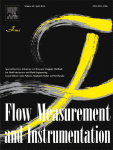 It is our pleasure to announce the publication of the Special Section on Ultrasonic Doppler Methods for Fluid Mechanics and Fluid Engineering in the journal Flow Measurement and Instrumentation (Volume 48, April 2016).
This Special Edition is guest edited by Anne Pallares, Stéphane Fischer (UBERTONE) and Yuji Tasaka, and includes a selection of papers about the most recent advances in ultrasonic Doppler velocity profile method. read more
Ubertone has now a representative in Japan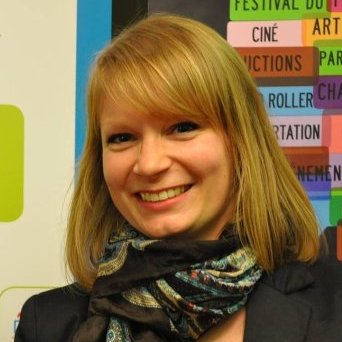 Japan is a major contributor to the domain of Fluid Mechanics and Ubertone had already many opportunities to work with Japanese University labs.
From now on the French compagny will have a representative in Japan : Dominique Becht. With a background in innovation, she is at your disposal to present you Ubertone's devices and services, and more specifically UB-Lab. 日本 ユーバートーンのブログを見てください
ドミニック ベシュトはユバートーンの日本マーケット担当です。 お気軽にメールでご連絡くださいdominique.becht[at]ubertone.com ***[at] to be replaced by @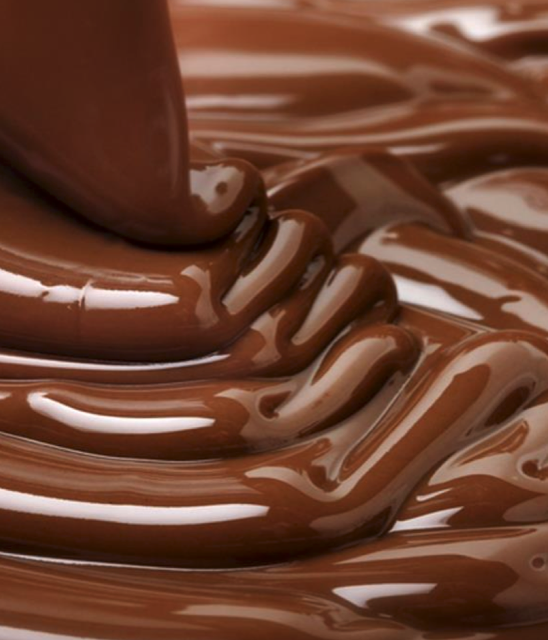 From January 2013 to December 2014, Ubertone has taken part in ULTRACHOC project which aims to control and monitor chocolate's tempering process. A system composed of an UB­Lab combined with pressure sensors has been used successfully and has thus demonstrated that it suits perfectly to this type of industrial need. This in­line and non­invasive technology provides real­time and accurate viscosity measurements, offering thereby a better understanding of the fluid's properties and behavior ... read more

Comment être sûr de préconiser la bonne solution technique ? Sept constructeurs répondent aux problématiques couramment rencontrées par les bureaux d'études. Cette demi-journée permettra d'ouvrir le débat sur les différentes technologies utilisées dans la métrologie sur l'Eau et de présenter des innovations dans le domaine. De plus, l'espace exposition ... read more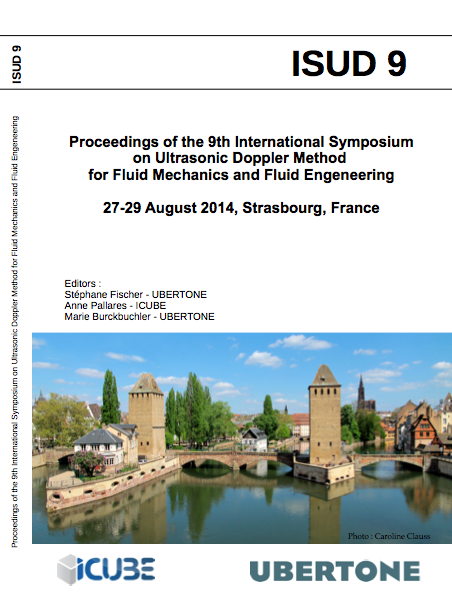 During August 2014, Ubertone has co-organised the 9th edition of the International Symposium on Ultrasonic Doppler Methods for Fluid Mechanics and Fluid Engineering. The main objective of this biennial event is to allow researchers and engineers to present and exchange about the techniques and applications of the velocity profile measurement based on pulsed ultrasonic Doppler ... read more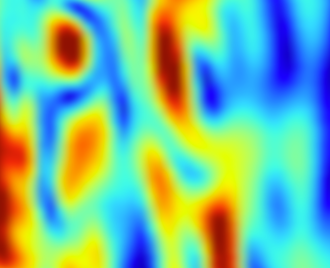 FLUCOME conference held in Japan and provide a forum for researchers and engineers to exchange the latest development and applications of Fluid Control, Measurements, and Visualization in various fields in order to enhance better understanding ... read more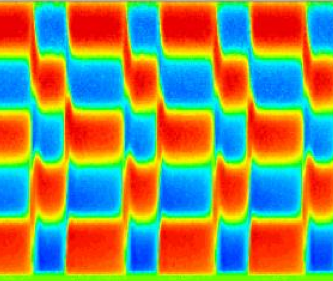 As part of an academic exchange, Yuji Tasaka (Laboratory for Flow Control) will present his activities in the field of flow instability and transition. Ultrasonic velocity profiling has greatly contributed to these experimental fluid dynamics studies... read more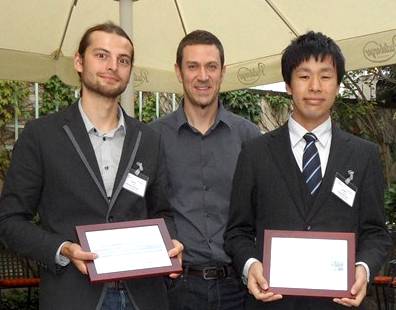 During the 8th ISUD Conference, the Ubertone Student Paper Award rewards the work of young researchers about the application of Doppler profiling in mechanics and engineering of fluids... read more
UBERTONE participera à la 8ème conférence ISUD qui se déroulera à Dresde (Allemagne) du 19 au 21 septembre. Le Symposium sur les Méthodes Doppler pour la Mécanique des Fluides et l'Ingénierie réunit tous les deux ans des spécialistes du monde entier ... read more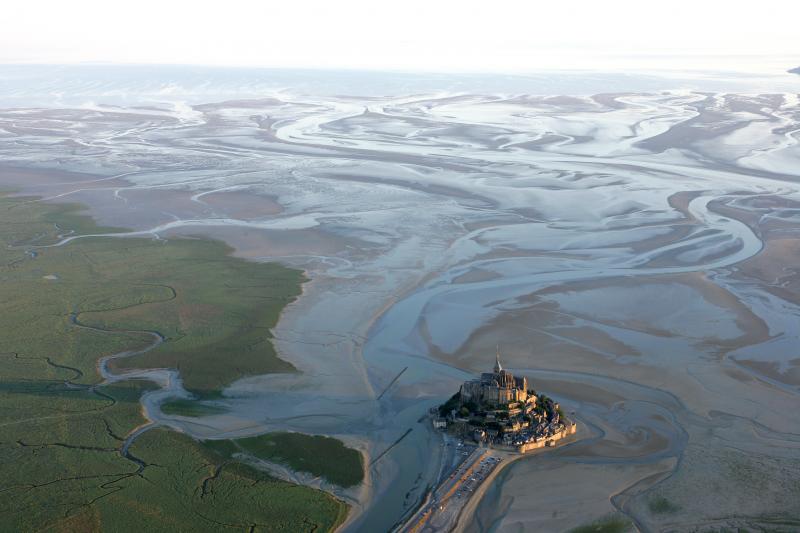 The ICSE have become respected events in the technical conference calendar for engineers, scientists, decision makers and administrators providing services in the areas of scour and erosion. Stéphane Fischer, founder of UBERTONE, will give a conference entitled "Evaluation of a High Resolution Acoustic Profiler for Hydraulic Erosion Studies" ... read more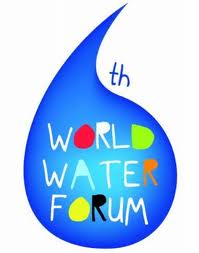 Le Groupement pour l'Evaluation des Mesures dans les Eaux et en Assainissement) a développé une solide expertise en métrologie, en particulier dans les domaines de la technologie et la mise en œuvre des capteurs l'instrumentation des ouvrages et des systèmes hydrauliques en milieu urbain ... read more
Connexion sans fil à nos équipements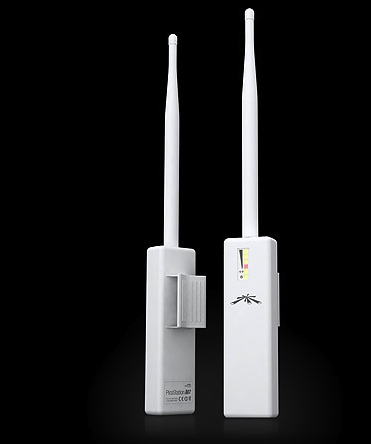 Désormais nos équipements peuvent être pilotés sans fil via wifi, offrant ainsi plus de souplesse et de facilité d'installation ! En effet, nos systèmes basés sur Ethernet permettent une large possibilité d'interfaçage sur les réseaux modernes.
Conference at Pollutec 2011
In collaboration with HYDREOS (the French business cluster on water quality and management) we gave a conference entitled :
New Ultrasonic Measurement Techniques : Which Applications in Wastewater and Environment?
The innovations in the field of acoustic instrumentation allow the measurement of velocity and acoustic turbidity profiles in natural and industrial flows. In a similar approach to medical echography, the technology developed by UBERTONE permits the precise observation of the fluid. It therefore offers a new tool allowing hydraulic study in sewer networks, sediment transport tracking in rivers, etc.
ECOTECHS'2011 Sensors and Measurement Systems for environmental applications
Cemagref organised the ECOTECHS'2011 symposium (october 2011) at its research and experimentation center in Allier. This symposium concerned sensors and their implementation in environmental fields (including agriculture).
This was an opportunity for UBERTONE to present the latest results on the evaluation of the high-resolution acoustic profiler UB-flow F156 for sediment transport studies in rivers.
Visit of Professor Takeda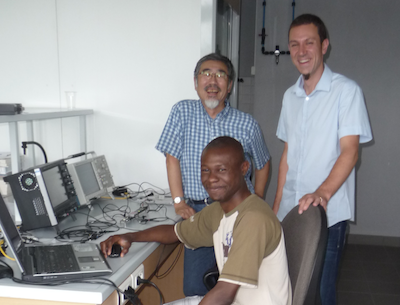 We had the pleasure of hosting Professor Yasushi Takeda (formerly from Hokkaido University, Japan) during the summer of 2011. After being a pioneer in the development of the ultrasonic pulsed Doppler method and its applications in the field of physics, he is now the director of the FlowBiz company (Tokyo, Japan).
This rewarding meeting with Professor Takeda was the opportunity to present our latest hardware developments and to discuss future collaborations.
Interview on France Bleu Alsace

On the regional radio France Bleu Alsace, Ubertone's founder, Dr. Stéphane Fischer (PhD in Electronics, MSc in Engineering Physics, Strasbourg University) discussed new advances in water measurement techniques in the radio show "Alsace Innovates".
Listen to this interview (in French):
Innovation award for Ubertone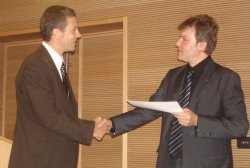 Ubertone's activities in new ultrasonic flowmetering technologies are rewarded in the French Innovative Technology Start-up contest.
By the award of this grant, this contest rewards and supports the best projects of new businesses involved in innovative technologies. In addition to the grant, this award recognizes the enterprise as a leader in its field.