UB-SediFlow : the hyperband acoustic profiler
UB-SediFlow profilers allow multi-frequency backscattered echo amplitude profile measurements in field applications.
Advantages
High spatial and temporal resolution
Hyperband and fine frequency tuning
Web interface through Wifi
Real-time profile visualization
Autonomous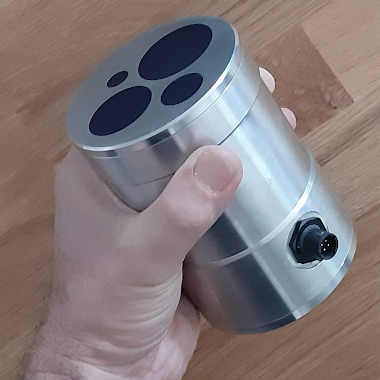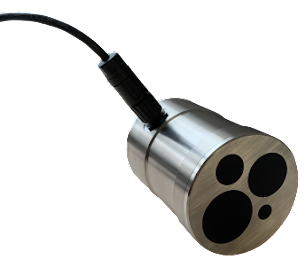 The multi-frequency acoustic profiler UB-SediFlow measures backscattered echo profiles along 4 acoustic beams. The system is composed of two hardware modules linked by a cable :
1 acoustic module, including 4 transducers and an acoustics electronic board, and which is waterproof down to 20m.
1 splashproof logger (acquisition and communication module), including a battery (autonomy of 12 hours) and communicating through wifi (signal range up to 100m)
The device is configured through a responsive web interface and profiles can be visualized in real time. The logger allows the storage of a large amount of data.
The UB-SediFlow contains 4 transducers which can be driven sequentially. For a single profile measurement, the same transducer emits bursts and receives the corresponding echoes. The transducers (centered on 0.5, 1, 2 and 4MHz) are wideband, which allows fine frequency tuning in the range 0.35 to 5.00 MHz.
The instrument is an ABS (Acoustic Backscattering System) recording the backscattered echo amplitude profiles.
The post-processing of the backscattered echo amplitude profiles by the user allows the evaluation of Suspended Sediment Concentration (SSC). See also acoustic turbidity.
Measurement Performances
Sampling range
0.005 to 8 m
Number of cells
2 to 200
Cell size
3 mm to 10 cm
Sampling rates
up to 5 average profiles per second *
Number of configurations
9
Trigger IN/OUT
no
Acoustics
Transducer
4 broadband transducers centered on 0.5; 1; 2; 4 MHz with active diameters of resp. 35; 30; 20 and 10mm.
Frequency range
0.35 to 5MHz
Beam width
1.5° to 6° half angle (depending on the transducer and on the emitting frequency)
Emission voltage
50V typical
Physical
Dimensions
85 x 85 x 110 mm (acoustic module)
Weight
1.8 kg (acoustic module)
Cable
up to 20 m (between acoustic module and logger)
Data Management
Communication
Wifi connection to logger
Modbus through RS485 between both modules
Internal data logger
Up to 1.2Go
File format
binary (.udt)
Echo
Backscattered echo RMS amplitude per beam and cell
Power
Input
12V DC (for the acoustic module)
5V DC (for the logger)
Consumption
ypical 2W (for the acoustic module)
typical 1.5W (for the logger)
ON/OFF LED
Button and indication LED (on, off, charging) on the logger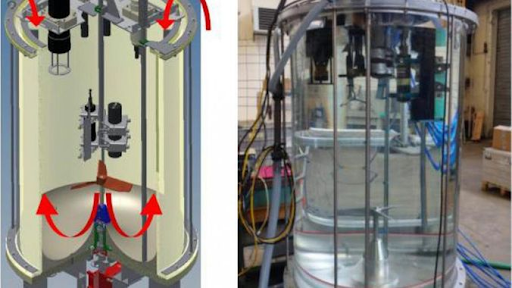 31/03/2022
Comparison campaign for suspension monitoring between a various instruments in the DEXMES laboratory tank facility, including the UB-SediFlow ... read more
---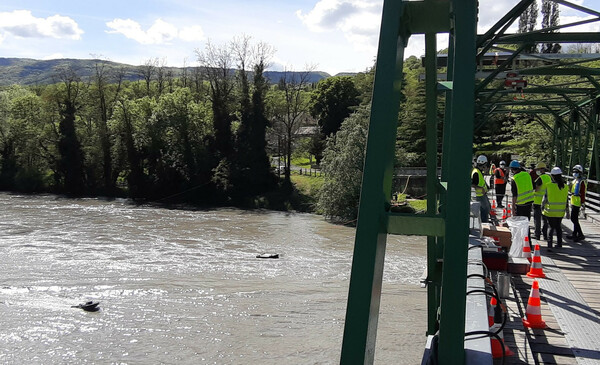 13/10/2021
During the sediment managing operations APAVER of May 2021, the UB-SediFlow was used for sediment monitoring on the Rhône river, France ... read more
Accessories :
Holder
Different cable length